FIRST FLIGHT : TANDEM PARAPENTE ANNECY
Specialist of tandem flight in Annecy since 1994, trust our team to make your first Paragliding tandem flight Annecy ! Without previous experience, you can discover paragliding by making your first paragliding baptism with our instructors, all state graduates and with modern equipment.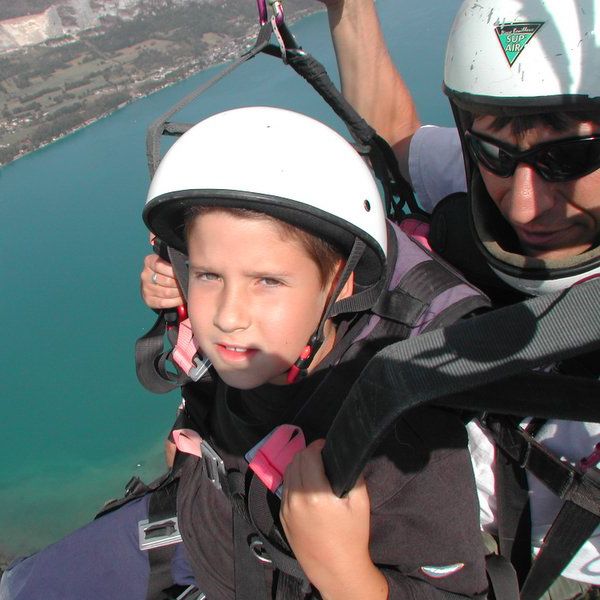 About
Give your child the chance to fly over Lake Annecy! Enough to put a lot of memories in his head and give him the chance to fulfil one of his childhood dreams. You will fly from La Forclaz, the most popular paragliding site and fly over Lake Annecy!
This flight takes place only in the morning, in calm conditions. This ensures the safety of your child. In the morning, the breezes are less strong. This is why we carry out these baptisms before 12.30 pm.
You will find your child with a big smile on your lips! What more could you ask for? Don't hesitate to contact us if you have any questions !
SPECIFICATIONS :
Age : between 5 and 14 years old
Flight time : 20 minutes
Price : 75€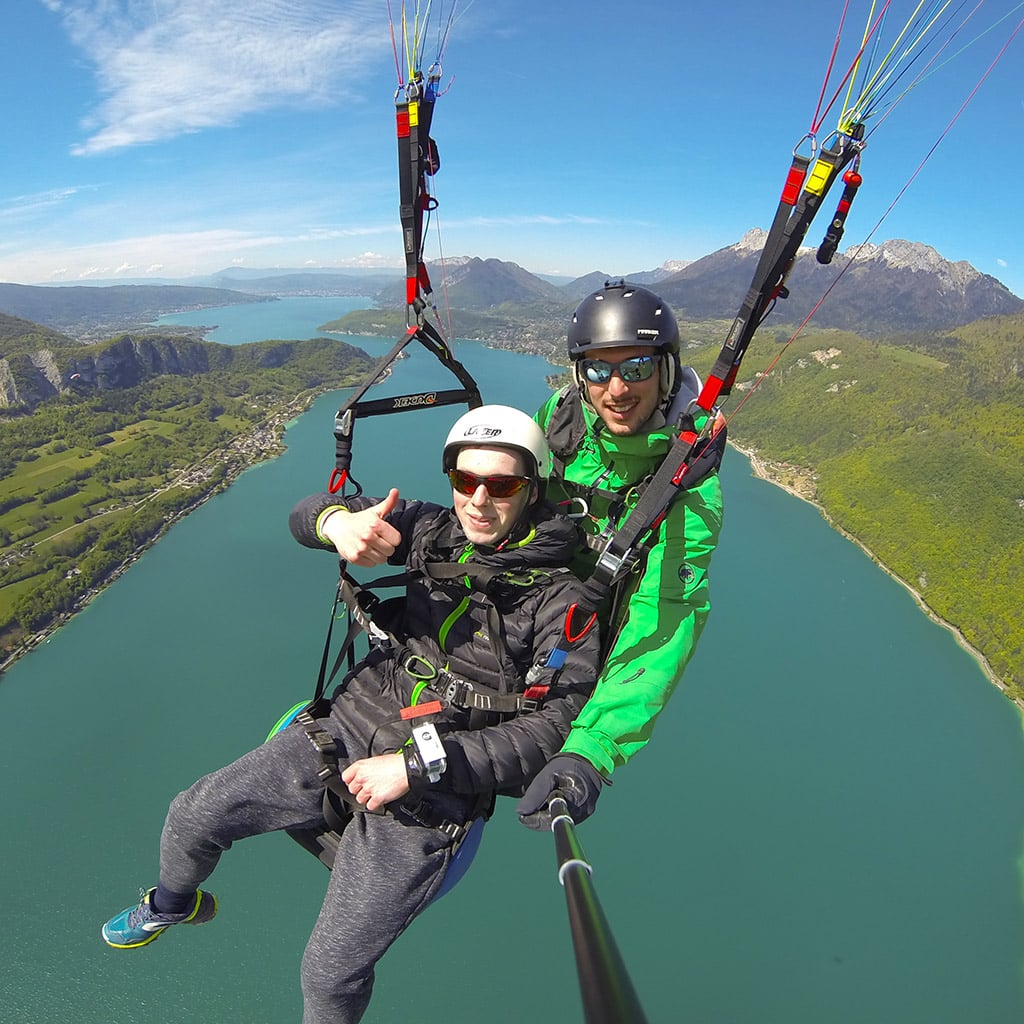 About
Are you ready to get started? Do you want to discover the feeling of flying? Make your first paragliding jump in Annecy! To make your dream come true, we offer you a tandem paragliding discovery flight! Thanks to this formula, you will discover the pleasure of flying in complete safety.
Like a bird in the wind, you will take off with one of our paragliding instructors, all state-qualified. Together, you will fly over one of the most prestigious sites in Europe. The Col de la Forclaz is the most popular and one of the most beautiful, for the practice of free flight. Its runway is specially equipped for paragliding, this place allows a comfortable take-off. You will be amazed by the view of Lake Annecy, during 800m of difference in altitude.
On holiday, on a stroll or simply wanting to change your daily life? The discovery paragliding experience is the activity for you! It's an original and sensational way to discover or rediscover the Annecy region. Above the lake and its mountains, you will be free and light!
SPECIFICATIONS :
Minimum age: 8 years old (20Kg)
Flight time : 20 minutes
Price : 105 €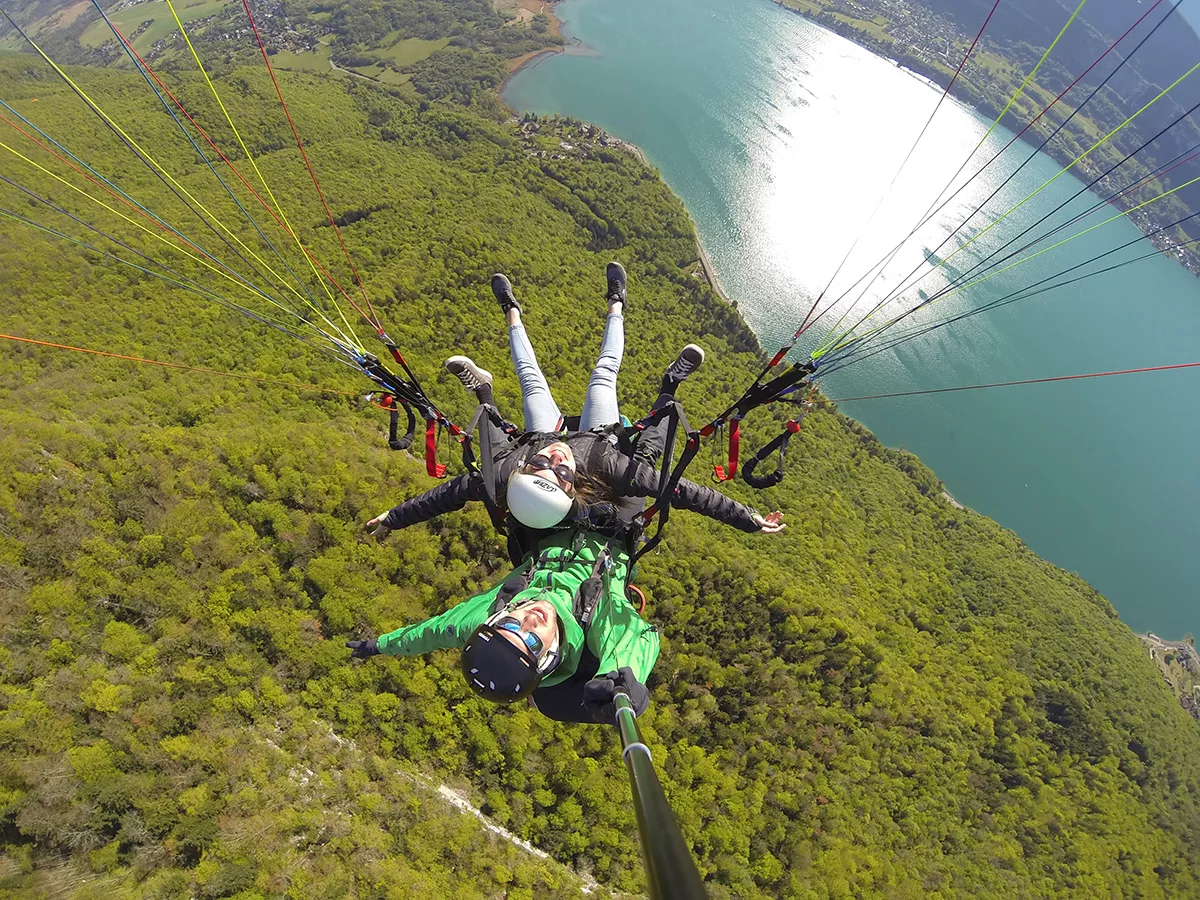 About
Discover acrobatic paragliding and choose the paragliding sensation Annecy!
You will take off paragliding from the most prestigious site in Europe, the Col de la Forclaz. It is the most famous for the practice of free flight! After take-off and warm-up, get used to this new sensation of paragliding flight. Your pilot will offer you a series of acrobatic figures, which will literally tape you to your seat. With sensation paragliding flight, the figures are composed of tight turns, wing over, and 360°. Thrills are guaranteed with this type of acrobatics, enough to get your adrenaline pumping in the blink of an eye!
It's a chance to fly from the Col de la Forclaz, Annecy is a region in its own right for paragliding. Whether you're on holiday, on a stroll or from the local area, it's not to be missed! With sensation paragliding, you will fly over Lake Annecy and its mountains. You will live an exceptional moment in a dazzling setting, during 800m of difference in altitude. It's an original and sensational way to discover the Lake Annecy region! For your loved ones, don't forget the gift voucher! It's an original activity for a birthday or a party!
SPECIFICATIONS :
Minimum age : 8 years old (20Kg)
Flight time : 20 minutes
Price : 115 €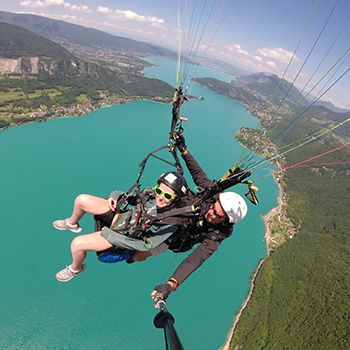 TANDEM FLIGHT PERFORMANCE
About
The tandem paragliding performance flight allows you to fly in ascending conditions, therefore in thermals, to fly more than 30 minutes with your instructor. The instructors are waiting for you to live this unique experience with you! In the manner of birds, you will discover the techniques and sensations to gain altitude by paragliding and make a long flight. Want to know more?
Thermal flying: it's the art of rolling the thermal, those famous bubbles of hot air to fly higher than your take-off point!
Dynamic flight: it's the use of the wind that rises along the cliffs and slopes to climb!
Here's a little more information and make your mouth water! This unique experience will allow you to discover or rediscover paragliding flight. This feeling of calm and swimming in the middle of nature… who has never dreamed of it?
SPECIFICATIONS :
Minimum age : 8 years old (20Kg)
Flight time : 30 minutes
Price : 130 €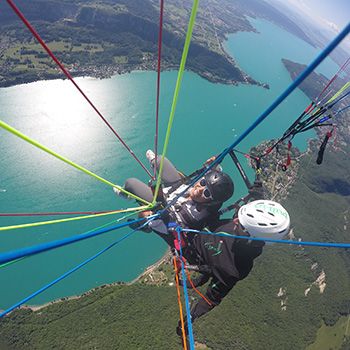 About
The prestige paragliding baptism combines altitude and aerobatics for an unforgettable paragliding flight! You will experience a flight of more than 30 minutes in thermal conditions. With acrobatics, we will adapt the flight to your desires. Photos and videos are included in the formula baptism paragliding prestige. Enough to immortalize your memories and impress your loved ones!
Discover the grandiose landscapes around Annecy: the purest lake in Europe! With its incredible azure, surrounded by magnificent mountains, you will be blown away by the landscape. As well as being full of it, you will experience moments of great sensations, during acrobatics with one of our state-qualified instructors! Between 360°, wing-over and other figures, thrill seekers will be delighted!
Once at the landing field, you will receive a CD with your photos and the video of your flight. The best solution to keep an incredible memory of your prestige paragliding experience and to share it with your loved ones!
SPECIFICATIONS :
Minimum age : 8 years old (20Kg)
Flight time : 30 minutes
Photos and videos included
Available : april to september
Locations : col de la Forclaz, Doussard, Talloires, Annecy
Price : 145 €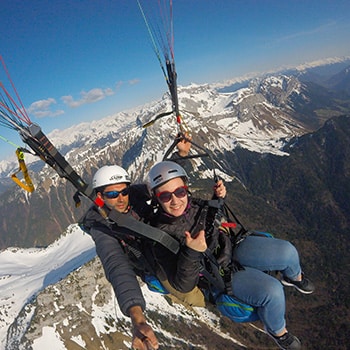 About
Discover the practice of distance flying! With more than an hour of flight time, using updrafts, we will try to climb and then move forward to find other updrafts and so on, to achieve a small distance.
Our usual circuit is around the small lake of Annecy, 25 km:
Takeoff from the Col de la Forclaz.
Altitude gain and transition on the Lanfonnet River
Lanfon's tooth
Crossing the lake to reach the rock of the oxen
Altitude recovery and return to Doussard for landing.
Warning: This is a flight reserved for people who have already made a first "classic" two-seater flight and have not experienced heartburn (motion sickness). It is a cross-country flight around Lake Annecy for all those who have already flown and want to discover new sensations in paragliding.
SPECIFICATIONS :
Minimum : Already did one flight
Flight time : 1 hour
Distance travelled : more than 15km
Available : may to september
Locations : Annecy and its surroundings
Price : 250€
These flights are supervised by state-qualified, experienced instructors with extensive training.
The team of your first paragliding flight Annecy : 
Our team is a team of shock !! With more than 12 qualified summer instructors, we are at your disposal to reassure you and guide you in your Paragliding tandem flight Annecy. All are excellent drivers, many of whom have won international competitions, but above all they have been "selected" in our team for their kindness and passion ! 😉
HOW IS YOUR FIRST FLIGHT DOING ?
That's it, you decided to fly with us? Still some hesitation ? So let's try to answer all the many questions you need to ask yourself before your Paragliding tandem flight Annecy !
The appointment for your tandem flight :
To make your first paragliding flight Annecy, it's very simple, it will be necessary to go to the landing air of Doussard which is 30 minutes from Annecy along the lake. See you at our little cottage, which is just at the foot of Doussard landing, which is at the other end of the lake compared to Annecy. For this, there are several means of transport available to you : you can of course get there by car, but you can also go there by bike by the bike path, starting from our shop which is located in the city center of Annecy. If you are interested in bike rental, click here !
After making an appointment, to be sure to have a seat with one of our instructors, we advise you to arrive a good quarter of an hour in advance, this will allow you to take advantage of the landing site. Indeed, it's really worth seeing the broom of the paragliders, if you have never done before ! Then, when it is your turn to get ready to go in the air, take a seat in our minibus and take off !
Takeoff for your Paragliding tandem flight Annecy :
Once on the site, you will be entitled to a brief briefing from our instructor, who can also answer all your questions ! To summarize what the instructors will tell you : you will just run a few meters, always with your guide. This will allow you to find yourself in the air, then you will be securely hung under the paraglider as a bird !
From the first steps, you will feel the sail take care of you and at no time will you have the feeling of throwing yourself into the void !!!
In the air for the first time : Here we go !
Once in the air, all you have to do is sit comfortably in the back of your seat, which is called the harness. From the first second, you can enjoy your Annecy paragliding tandem and the magnificent view of the lake !
Rest assured, there is no feeling of dizziness because you are no longer connected to the ground. You will discover then the magnificent sensations of a flight : the descent, the accelerations in turns and the acrobatics if you wish it ! You can even try to fly a little paragliding, in the calm aerology above the lake 😉
How is the landing ?
Do not panic, there is nothing complicated! You just have to get back into the standing position, outside the harness, and then take a few steps when you put it down: with the modern sails, the landing is extremely soft.
Why make your first paragliding flight Annecy ?
The site of Forclaz at the other end of Annecy is an internationally known site ! It is one of the most famous sites in the world, because the aerology (winds) is ideally suited to paragliding ! In addition, the view is fantastic… Indeed, it is the most beautiful panorama you can have on Lake Annecy. The takeoff site is very soft and rounded.
The landing field is huge and there is free parking next door. This huge landing is absolutely ideal for your paragliding baptism ! The landing area is located at the end of the lake at Doussard. This allows us to really fly over Lake Annecy. It's one of the most beautiful moments of the flight ! In addition, calm aerology above the water will allow you, if you wish, to try to fly paragliding. After the flight, there is also the famous bar of JP, to recover from your emotions and celebrate with dignity your first flight in paraglide!
"Paragliding jump" or "Paragliding flight" ?
Here is a little wink to finish… do not say "Paragliding jump" ! Indeed, we have inherited the term skydiving, where the practitioners actually jump from the plane during the baptisms ! In paragliding this is not the case, no need to jump. As you have understood, in paragliding we take off from a progressive track, then we fly in the air in a very calm way. The good expression is so good "Paragliding flight" 🙂